Kathy's Music
"Kathy Sanborn is able to convey emotional truths with a sound no one else can produce--a quavering joy that works equally well over an ocean or acoustic chords of ballads. No one else sings like that." --John Shelton Ivany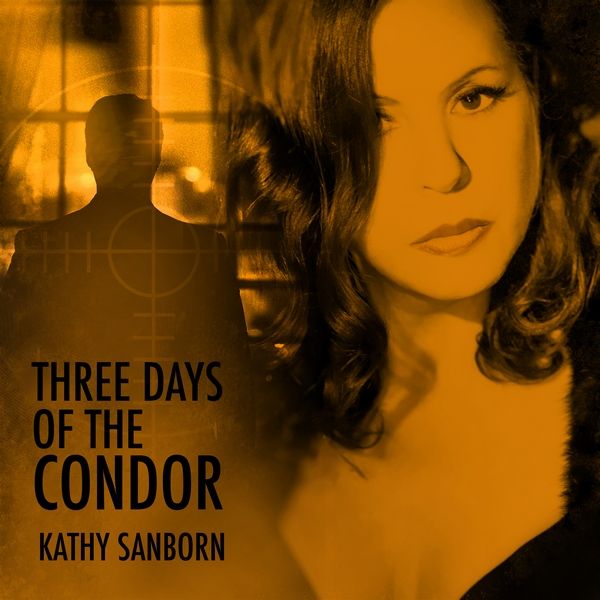 Three Days of the Condor
2019 Single
Released June 26, 2019, "Three Days of the Condor" packs a musical punch with modern appeal. The song is an up-to-the-minute interpretation of the classic movie title track composed by ten-time Grammy Award winner Dave Grusin for the 1975 spy thriller starring Robert Redford and Faye Dunaway.
With vocals by award-winning jazz composer and singer Kathy Sanborn, "Three Days of the Condor" features MASA on guitar and strings, Vahagn Stepanyan on rhodes, Glenn Welman on drums and percussion, Jackie Bertone on percussion, Hector Ruano on bass, and Marcus Mitchell and Douglas Lira on saxophones. Produced by Matthew Shell, "Three Days of the Condor" will introduce a new generation to the music of Dave Grusin while entertaining listeners with its infectious jazz grooves and cutting-edge arrangements.
Buy on iTunes
Buy on Amazon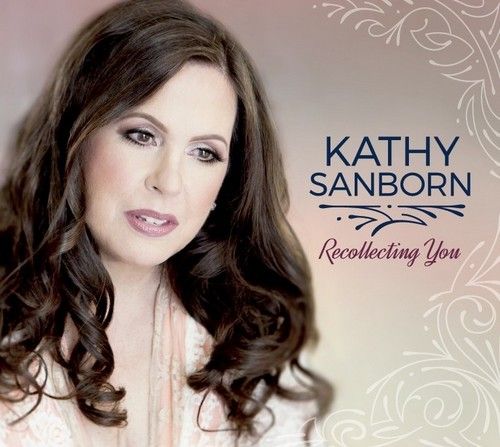 Recollecting You
2017 Album
According to Grammy Award winner Kabir Sehgal, "Between the irresistibly silky vocals and the muted, neo-Cool Jazz flavor of the accompanying music, Kathy Sanborn's Recollecting You is a romantic tour de force. With a uniquely lush and powerfully emotive vocal style, Sanborn draws musical inspiration from the past while pushing the evolution of the genre ever forward."
Sehgal adds, "The songs cover a range of romantic sensations, like waiting breathlessly for a lover to arrive for a rendezvous, getting swept up in the heightened sensations of a new affair, feeling the void of a lover lost, and finding a path back to love in the aftermath, yet it also touches on the love born of family and friendship.
'Another Sultry Night' is quintessential Kathy Sanborn: sensuality as a musical expression. The artist describes the setting as a hot, humid Southern evening with the anticipation of a night of passion hanging in the air. 'Falling' is an achingly beautiful meditation on losing oneself to a romantic fantasy and the possibility of it ever becoming real. 'Kissed (Shoobop Shoobop),' with its upbeat tempo and melody, is an expression of Sanborn's own positive outlook and faith in our ability to carry on no matter what comes our way. The title track is a celebratory musical homage to the past and to its remembrance that was inspired by the experience of a cherished friend of the artist who lost the love of her life. The theme of 'Heart Don't Tell' is the sensual energy of an unrequited, hidden attraction and the risk of its discovery, and 'Reflections in the Rain' conjures up the emotional paradox of a broken-hearted New Yorker emotionally isolated in a teeming city of millions. 'The Boys Are Back Again' is a paean to the gift of absent, beloved family members joyously returned to the fold. 'Always You' is about the phenomenon of love hiding in plain sight until finally recognized and embraced, and 'Guiding Light' is a grateful acknowledgment of a person or spiritual force that can be leaned on and trusted to shepherd us through the vicissitudes of life. The final track, 'Recollecting You (Snowfall Version),' explores love as the fundamental and immortal interplay of two connected souls."
The album features Latin Grammy nominee guitarist Ciro Hurtado, violinist Rocio Marron, guitarist Vito Gregoli, and trumpeter Wayne Ricci. In addition to the stellar American players, Recollecting You spotlights remarkable musicians from India, including the producer, arranger, and keyboardist Keerthy Narayanan, pianist Aman Almeida, and drummer Abhinav Khanna. Bharath BJ of ReChord Studios in Bangalore, India, is the mastering engineer for the project.
"Falling," a track from the Recollecting You album, won Best Jazz Song at the 2017 Clouzine International Music Awards.
Buy Recollecting You CD at Amazon
Buy Recollecting You at iTunes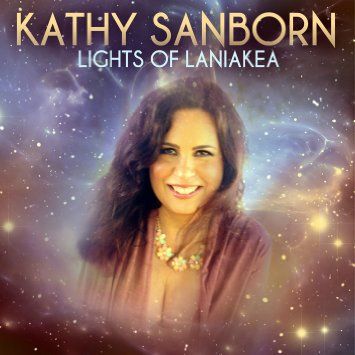 Lights of Laniakea
2015 Album
Teaming with GRAMMY®-winning recording artist Ricky Kej, award-winning singer/composer Kathy Sanborn combines her trademark silky vocals and heartfelt compositions with Kej's consummate arranging skills for her seventh album, Lights of Laniakea, released worldwide August 14, 2015.
Sanborn says, "Lights of Laniakea is packed with cheerful songs and positive energy. Always an optimist, I wanted to share my upbeat vision for the world in Lights of Laniakea, and Ricky Kej was the ideal arranger to bring my compositions to life."
Just what is Laniakea? Back in 2014 at the University of Hawaii, scientists mapped a new supercluster that contains our own galaxy, the Milky Way. They named it Laniakea, which means, "Immeasurable Heaven." The album, Lights of Laniakea, describes our universal desire to live in the light – in the "immeasurable heaven" that is our home.
Lights of Laniakea is World music that weaves delicate vocal tapestries and delightful melodies in a stirring musical treat for the senses. A cross-cultural blend of enchanting and uplifting compositions, Lights of Laniakea introduces a fresh and inspiring perspective to the genre of World music.
Kathy Sanborn is an American singer and composer renowned for her velvet voice and elegant style. Sanborn won a 2015 American Songwriting Award for her World single, "Fantasy."
GRAMMY® Award-winning musician and composer Ricky Kej has earned multiple honors for his composition and production skills. His Winds of Samsara reached #1 on the Billboard New Age charts and won a 2015 GRAMMY® Award. The album also won Album Of The Year and Best World Music Album at the 2014 Zone Music Reporter Awards.
Buy Lights of Laniakea at Amazon 
Buy Lights of Laniakea at iTunes
Buy Lights of Laniakea CD at Amazon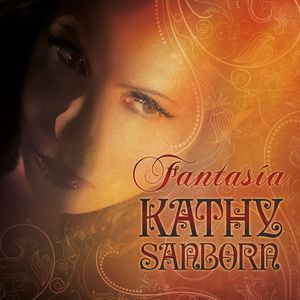 Fantasía
2014 Album
Fantasía, Kathy's sixth album, incorporates many moods of Latin jazz, from the South American flavor of "Pensamiento" to the modern jazz feel of the title track, "Fantasía." The common theme of the album, particularly as expressed in "Sencillamente Amor," is Love in its many forms.
Sanborn's song, "Madre Mundo" (Mother Earth), reflects the current global concern over environmental issues, and is a musical call to action.
"Viva El Sueño" (Live the Dream) encourages people everywhere to follow their dreams.
The album reached the iTunes bestselling Latin new releases charts.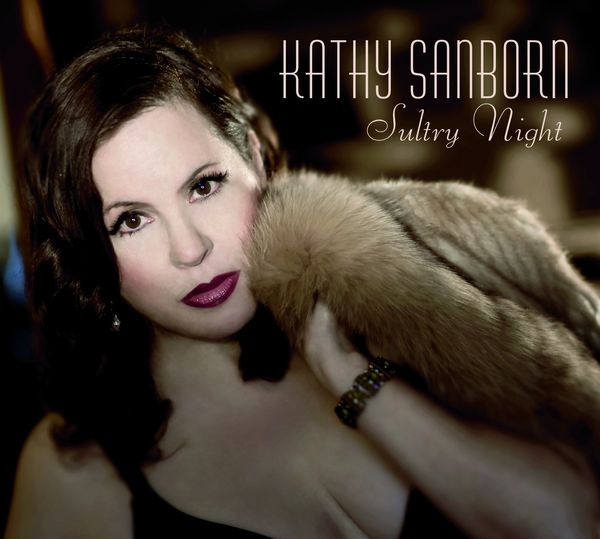 Sultry Night
2013 Album
Released in September 2013, Sanborn's fifth album hearkens back to the glamour days of sizzling romance in classic movies. Taking a cue from the film noirish cover photo of Sanborn in a vintage evening gown, Sultry Night opens with the seductive title track. The music welcomes the listener into a world of steamy sensuality, where glamour is queen and romance is king.
Continuing the spotlight on the film noir era, Sultry Night includes songs honoring jazz vocal legend Anita O'Day and popular screen actor Cary Grant.
Sanborn says, "Sultry Night reflects a world of steamy romance and unbridled sensuality - where love is always on one's mind."
Besides producing, composing, and arranging the Sultry Night album, Sanborn provides the vocal and piano artistry. Sultry Night also features trumpeter Wayne Ricci's engaging performances.
Sultry Night reached Amazon's Bestselling Vocal Jazz MP3 charts. The album follows Sanborn's critically acclaimed albums, Six Degrees of Cool and Blues for Breakfast. Both albums reached Amazon's bestselling MP3 Vocal Jazz charts as well.
Tracks include Sultry Night, That Cary Grant Smile, Angels Cry, Miss O'Day, Ordinary Man, Not Amused, The Boys Are Back, Butterscotch Sky, and No More Storm.
Buy Sultry Night at Amazon
Buy Sultry Night at iTunes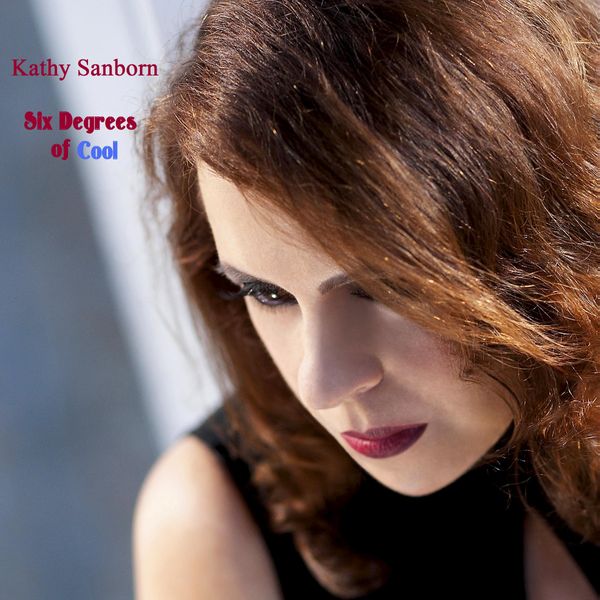 Six Degrees of Cool
2012 Album
Released September 2012, Six Degrees of Cool is the fourth album by the velvet-voiced song stylist, pianist, and composer Kathy Sanborn.
Six Degrees of Cool reached Amazon's Vocal Jazz MP3 Bestseller charts.
Six Degrees of Cool has something for every jazz lover, even social commentary. Packing a punch on the nature of economic hard times are "Bitter Winter" and "Shanty Man," the last a song describing the effects on a family in the Great Depression of the 1930s.
The title track, "Six Degrees of Cool," is the one instrumental on the album, and features trumpeter Wayne Ricci.
Six Degrees of Cool is the follow-up album release to Sanborn's critically acclaimed album, Blues for Breakfast. Released in 2011, Blues for Breakfast reached #4 on Amazon's MP3 Vocal Jazz charts.
Buy Six Degrees of Cool at Amazon
Buy Six Degrees of Cool at iTunes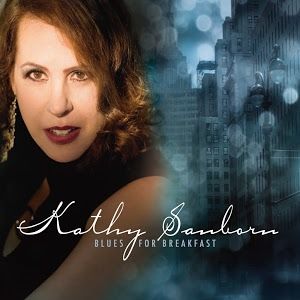 BLUES FOR BREAKFAST
2011 Album
Blues for Breakfast, the third jazz album from sultry female jazz vocalist Kathy Sanborn, released in March 2011. The album also features GRAMMY® nominee Scott Petito's distinctive bass, Chris Carey's sizzling drums, and Wayne Ricci's soulful trumpet.
The red-hot title track, "Blues For Breakfast," showcases Sanborn's love of jazz history and her affection for the famed musicians of the 1930s-50s who performed on New York's 52nd Street. Sanborn says: "I wrote the song, 'Blues for Breakfast,' as a fond tribute to the jazz masters of days gone by. On New York's 52nd Street, the greats would 'walk the high wire' and enthrall and inspire new generations of jazz players. As jazz continues to evolve in the modern era, I imagine the masters are looking down and nodding their approval."
Blues for Breakfast reached #4 on Amazon's MP3 Vocal Jazz charts.
Album tracks include: Secret Paradise, Butterfly, Blues for Breakfast, Waterfall, Waited So Long, Blame It on a Kiss, Painted Blue, Love's Delight, Tell Me Goodbye, and The Ba Ba Song.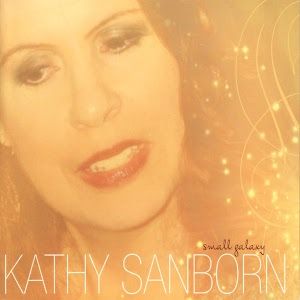 SMALL GALAXY
2010 Album
Released in 2010 through the Pacific Coast Jazz label, Small Galaxy is the "feel-good album of the year." Packed with upbeat lyrics and catchy grooves, the second album from female jazz singer Kathy Sanborn will take you on a thrilling journey to the stars - and beyond. Blast off!
Album tracks include: Small Galaxy, Oh So Real, Be Coolin', More Than You, Got Me Runnin', Time to Shine, Himalaya, Lost at Sea, Catalunya Breeze, and Catch the Wave.
Small Galaxy climbed to #4 on radio station WSCA's Top Chart, and garnered critical acclaim for its silky, sensual vocals.
Buy at Amazon
Buy at iTunes